My son looks forward to his birthday celebrations every year. While planning the details of the Birthday Party, over the years, we have also kept in mind simple ways to reduce the environmental impact of the celebrations. Sharing some easy to do things:
As return party favors we usually end up buying the readily available made in china toys, which break easily and add to the ever growing plastic waste.
Some alternatives for this can be, Cupcakes or cookies, kids love them, but yes they would be finished instantly, Story books or coloring books, which is also an evergreen gift in itself or a Photo booth.
This time while looking for new ideas for return gifts, I happened to read a post about small potted plants being given as gifts in offices and parties etc. Without having any second thought about it I knew here was my solution!!
I contacted Leafy Tales for helping me with this. And I was delighted with the results. Here's a picture of the return gifts which we gave to the kids.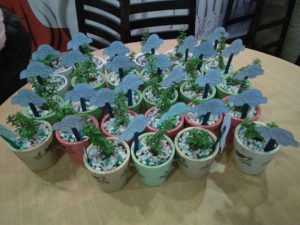 These pots can be easily made within small budgets, starting from Rs. 80 – 100 per piece. Pots were decorated with multicolored pebbles on top of the soil. Along with that there was a Car shaped (since this was his birthday party theme) 'Thank-You' note on behalf of my son, pasted on an ice cream stick.
Not only the kids (4-10 years age group) were super happy to receive them, but their mothers were equally excited! I received messages from happy moms, saying that their kid loves to take care of the plant, never forgets to water it and is enjoying seeing it grow.
I am very happy that I opted for this and would like to thank Leafy Tales for making our birthday celebrations greener and would highly recommend it to all mothers.
Instead of using fancy plastic base sheets for gifting wrapping purpose, I started using recycled paper sheets/bags and old newspapers. The idea may seem odd at first, but once we start using them, it is recieved with appreciation and also gives us the satisfaction of taking small steps to reduce plastic waste.
We usually used plastic and Styrofoam serve ware in parties. This again creates so much non biodegradable waste at the end of the party. We stopped using this when we saw eco friendly serve ware was readily available in market. We started buying disposable serve ware from Ecoware or Ecoleafplates (they make serve ware with palm leaf). They have a range of serve ware which can be easily ordered online too like Disposable Drinking Cups, Plates and Bowls.
It is important here to know what exactly is Styrofoam and why is it not good for us.
What is Styrofoam made of?
What we know as Styrofoam, is actually the trade name of polystyrene foam, a product used for housing insulation. Polystyrene is a petroleum-based plastic made from the styrene monomer.
When we drink a steaming cup of coffee, or have our hot soup delivered in Styrofoam packing, we don't realize that we are ingesting small doses of chemicals which leach out into our food.
To understand further read Styrofoam is really Bad For Your Health and How Styrofoam is Bad for the Environment.
You may have heard it in news before, but here is a link to read about this in detail France becomes the first country to ban plastic plates and cutlery.
We choose to serve juices over these aerated soft drinks during Birthday parties, as we would like our kids to stay away from them.
This has obvious health benefits, but soft drinks also have a hidden environmental cost. Here's a well explained article giving 22 reasons to stop drinking Soda!
These small measures are not too tough for all of us to implement. Not only will it help to save our mother earth and our health, but also give us a mental satisfaction for being an environmentally conscious human being. We would also like to hear your ideas on having greener celebrations, so please share/comment/email us.
Related articles across the web