Shampoos can have many uses.
They can help a budding Bollywood starlet, hook up with a swashbuckling cricketer.
While travelling, if you forget to pack your Rin ki Tikki with you, you can use a drop of shampoo to wash your clothes.
I grew up watching Bollywood actresses personally promise you that your hair will become bouncy & soft with regular usage. And, my hair did become soft, but not bouncy (although that may have had something to do with my receding hairline).
In short, shampoos are great.
Or so I thought, until I happened to look at the label of a popular shampoo brand.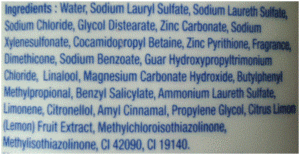 It was a veritable chemical soup !!
Ingredients in shampoos
Most shampoo brands include these and other ingredients like :
Dimethiconol, Carbomer, DMDMHydantoin, Zinc Sulfate, Panthenol, Lysine Hydrochloride, Methylisothiazolinone, Pyridoxine Hydrochloride, Sodium Ascorbyl Phosphate, Climbazole, Zinc Gluconate, TEA-Dodecylbenzenesulfonate, Poloxamer 407, Laureth-23, Laureth-4, Sodium Polynaphthalenesulfonate, PEG-9M, Aminomethyl Propanol, Propylene Glycol
Then I remembered, what an Ayurvedic expert had said, that you should only put on your skin, what you can put in your mouth.
Now, the idea of having a dash of Lysine Hydrochloride, with a pinch of Sodium Polynaphthalenesulfonate definitely didn't sound appetizing to me.
So, I decided to check if any of these chemicals with unpronounceable names, had any bad effects.
The David Suzuki Foundation in Canada found the following side effects for these chemicals, when they researched the safety of ingredients used in personal care products:
(a) DEA ( diethanolamine) – Skin and eye irritant, high doses can be carcinogenic
(b) Diethyl phthalate – endocrine disruptor, impacts normal development & reproductive health
(c) DMDMhydantoin, diazolidinyl Urea etc. – continuously release formaldehyde which is a known carcinogen
(d) BHA&BHT – known to be allergens and hormone-disruptors
(e) Methylparaben, Butylparaben, Propylparaben – known to be hormone disruptors, linked to kidney & liver damage, lead to skin aging and DNA damage
(f) Coal Tar Dyes (FD&C Blue No.1 etc.) –Many Coal Dyes show toxicity in animals, and have been banned in Europe
(g) Cyclotetrasiloxane, Dimethiconeetc – Can cause harm to immune & reproductive systems, also influence the nervous system
The Environmental Working Group (EWG) based in Washington DC, has done a detailed study on the presence of chemicals in shampoos & other personal care products, and a host of these chemicals were found to have toxic effects.
Impact on the Earth
Not only can chemical shampoos have a negative effect on our health, they are also bad for the environment. The runoff from chemical shampoos, shower gels etc. enters the water supply chain and the soil & pollutes our ecosystem. Once while taking a shower, as I saw the residual white foam going down the drain, I realized that it could come back to me some day in a different form. It would either mix with the ground water, and return as drinking water, or the groundwater would be used to irrigate crops and mix with the soil, and thus the chemicals would enter the food chain.
Not just shampoos, other cosmetic products like conditioners, shower gels, liquid soaps, hair gels, lip balms, facial makeup, nail polish, perfumes, skin creams etc. are largely chemical based.
Shockingly, a number of toxic chemicals are also used in Baby products.
Looking good with Petrochemicals
The 20th century marked a turning point, in moving away from natural products to synthetic chemical-based products for diverse applications. During World War 2, the petrochemical industry received a big push in the USA and other industrialized countries, to produce synthetic rubber, explosives, Fuels & lubricants. After the War, the petrochemical industry diverted its resources into other market segments including fertilizers, pharmaceuticals, cosmetics, plastics etc.
A number of the products used in the cosmetics industry are actually derivatives of the petrochemical industry eg, isopropyl alcohol, polyethylene glycol, Triethanolamine, phthalates and many others. These products besides having a deleterious effect on human health, also poison our environment.
As the cosmetics & Pharma industries grew to become multi-billion dollar industries, they further invested large amounts to synthesize newer chemical compounds. Driven by the twin levers of Capital & Technology, these large corporations find it much more profitable to create and sell chemical derivatives.
Since these synthetic chemicals were not present on the Earth during the human evolutionary phase, the human body does not know how to process or digest them. Many petrochemical-based products do not bio-degrade in the environment for decades , so how can we expect them to be digested by human bodies in such a short time.
Fortunately, natural solutions for body care have been around for millennia. However, in the craze for 'modernity', we have swept aside these natural products, used in India traditionally for generations. It is time we looked towards natural, eco-friendly hair care solutions that have been forgotten in this age.
Related articles across the web